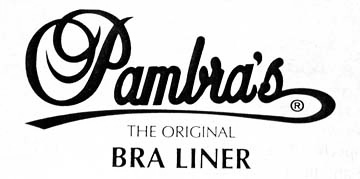 I received a set of three
Pambra's
to try out and I love them. They insert under your bra so easily and they are so comfortable, you don't even realize you are wearing them. They stop you from sweating and even helped me in particular with the sometimes uncomfortable feeling of my underwire bras. I was originally worried that they might slip out or move around, but that wasn't the case. Pambra's stayed in place right where I put them until I took them back out when my day was through. With the upcoming change of seasons, and the hot weather due to arrive, these will be perfect for everyone.
I let my daughter try one out as well, and now she wants a set of her own.
Pambra's
are perfect to buy for yourself or extra special to give as a gift to your friends or family members.
About Pambra's
* Effectively absorbs perspiration between and under breasts and extends the usage of the bra.
* Keeps skin drier to prevent chaffing and irritation.
* Prevents wetness from seeping onto brassieres and clothing.
* Thin, comfortable and inconspicuous when worn.
Pambra's has so generously offered one of my readers their own full size package of three bra liners in their choice of all white, all beige or all black.