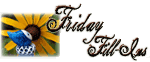 Friday Fill-Ins 2011-04
1/28/2011

And...here we go!

1. Up up and away.

2. At our house, the flu is going around.

3. Coats and scarves, mittens and boots: required winter wear.

4. Mommy needs a nice back rub.

5. I'm thinking about peace, love and karma.

6.

When will the whole world

be full of love?

7. And as for the weekend, tonight I'm looking forward to finishing a book and starting another one, tomorrow my plans include posting a few new giveaways on my blog and Sunday, I want to just lay back, relax, and maybe watch a couple of movie with the kidddos, and play some board-games!
So, I certainly hope that everyone has a great Friday
and an absolutely wonderful weekend.
I also hope that you will join Janet from 'Friday Fill-Ins'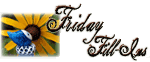 and show us your answers to the above questions!!
You know me....I'm all about getting to
know someone :)
~Steph