Welcome to the 32nd edition of
"Meet Me On Monday!"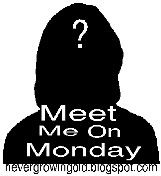 Every Sunday Never Growing Old will post five get to know you questions
that you can copy and paste into your own Monday post and we can all
learn a little more about each and every one of us!!


Java will add a linky so we can follow who participates and get to know
them better!! Be sure to link the POST and not just your whole blog!
So here we go....
Questions:
1. What is your favorite kind of fudge?
Oh, I'm definitely going with a simple one here.
But I can't help it, I just adore it!!
Peanut Butter and Chocolate Fudge....Mmmm ;)
2. Is there snow outside your window?
Yes, in fact there is so much snow that it is almost
covering my mailbox. The other day when the snow plow
went by, the snow it threw off actually broke my 4 X 4
wooden mailbox post, it's being held up by the snow....
but not well enough that I think the mail will be delivered today :(
3. What is your favorite meal of the day?
I can't say that I eat any meals on a regular basis besides dinner.
But if I had to choose, I'd say breakfast.
My ideal meal would be ham, soft bacon, over medium eggs,
hash-browns, light white toast with jelly, orange juice and
a few cups of hot tea :)
4. Do you text on your cell phone?
Not very often. I used to, when I had a nicer phone,
an actual text phone. But now that I've downgraded, I don't
unless it's absolutely necessary.
5. Waffles or pancakes?
I do like both but I'm going to have to choose pancakes!!
Pancakes with whipped cream (lots of it) and fruit ;)
~~~~~
Alrighty then, that about sums my likes up for now, eh??
Don't forget to stop by and enter yours, here!!
I'm always interested...
Besides, I want to know how you eat your pancakes!!!
~Steph