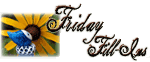 Friday, January 21, 2011
And...here we go!
1. So many of us struggle with chronic pain each day, and many don't even
notice.
2.
Smile, and help others when ever you can,
even in hardship.
3. Those who are accepting of everyone, no matter what color, no matter what disability,
JUST no matter what...those are the people that really make a DIFFERENCE IN THE WORLD.
4. While the children are all away, home is where Mommy is waiting quietly.
5. Light is in both the inside of my heart, and the outside of my heart. I am at peace with myself.
6. Make something better out of all that is ordinary.
7. And as for the weekend, tonight I'm looking forward to relaxing and watching a movie with the little ones, tomorrow my plans include reading and sledding (wathching, lol) and Sunday, I want to have the bigger kids over for family dinner!
If you'd like to join in the fun....
Have a wonderful weekend.

~Steph