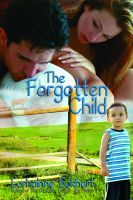 He wasn't looking to love again. But what he got was a woman who shook his lonely bitter world upside down, and touched him in a way no other woman could.
Emily Nelson, a courageous young mother, ends a loveless bitter marriage and strikes out on her own. She answers an ad as a cook and live in caregiver to a three-year-old boy on a local ranch. Ranch owner Brad Friessen hires and moves in Emily and her daughter. But Emily soon discovers something's seriously wrong with his boy. And the reclusive difficult man that hired her, can't see the behavior and how delayed his son is. So Emily researches, until she stumbles across what she suspects is the soft signs of autism. Now she must tell him. Give him hope, and help him come to terms with this neurological disorder—to take the necessary steps to get his child the help he needs.
As their lives become intertwined, it's unavoidable the attraction—the connection that sparks between them. And just as they're getting close, Brad's estranged wife Crystal returns after abandoning them two years earlier. In amongst the shock and confusion there's one disturbing fact Brad can't shake. How does she know so much of his personal business, the inner working of the ranch and Emily's relationship with his son?
Crystal must've had a plan as she somehow gains the upper hand, driving a wedge in the emotional bond forged between Brad, Emily and the children. The primary focus for care and therapy of three-year-old Trevor is diverted. The lengths Crystal will go—the lies—the greed, just to keep what's hers are nothing short of cold and calculating. Emily's forced out of the house. Brad fights to save his boy—to protect what's his. And struggles over his greatest sacrifice—Emily, and the haunting question—has he ultimately lost her forever?
This is an absolutely wonderful read. I read it in one sitting!! The beginning of this book finds the very responsible, almost to a fault, Emily searching for and accepting a new job where she and her 2 yr old daughter, Katy will need to move in with the ever famous Brad and his 3 yr old son, Trevor so that she can care for Trevor and prepare meals. As time goes by she notices that Trevor isn't quite right. When she first tries to talk with his father about it, he isn't understanding at all. Of course he isn't who would want to accept that there might be something wrong with their child?? But they find themselves working together and face many trials throughout this book. You won't be able to put this book down once you start it. When Brad's ex-wife steps back into the picture is when the book gets really interesting, but I don't want to give anything away, so you'll have to grab a copy and read it yourself.
Lorhainne Eckhart began her writing career in 2008, when she published her first novel, The Captain's Lady, a Contemporary Military Romance through The Wild Rose Press. You can find Lorhainne most days on Twitter, Facebook, Goodreads, contributing posts to her two blogs The Choice of Giving and Illusions while actively promoting her books, The Forgotten Child, The Captain's Lady, her supernatural romantic suspense

series, The Choice, and a children's illustrated adventure, A Father's Love.





Lorhainne Eckhart is a member of the RWA, Sisters in Crime and Victoria RWA. She lives on a small Island in the Northern Gulf. And somewhere in her busy schedule she finds time to write and be a full-time Mom to her three children. She is the mother of a special needs child, her greatest gift

,

having to learn organization and how to stay focused on what's really important in life. She lives by simple rules the same she teaches her children, stay honest, keep your word always, never take advantage of anyone and treat everyone with respect. She's an advocate for children with special needs. Passionate about preserving our environment and much of what Lorhainne advocates finds a way into each of her stories.
Win it: One lucky reader will win an ebook
Winner will be chosed 4/2 and contacted via email.
They will have 48 hours to respond.
a Rafflecopter giveaway