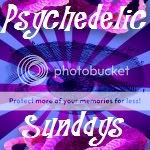 Today I linked up with "Stash Mama" for 'Psychedelic Sundays!'
I always like a chance to find new blogs to follow and also a chance to find more people, to follow mine!
If you get a chance...hit the link above and enjoy the blog hop!!
If you are a new follower....nice to meet you, and I'll be sure to follow you back ASAP!!
I wanted to leave the links of two of my giveaways that are about to end...just in case anyone wants to enter last minute! If you mention "Psychedelic Sundays" you may take an extra entry...just make sure to leave your email in each comment so that I can contact you if you win.
"Alternative ABC's"....an absolutely adorable little board book for the little ones!!
"Gunsmith Gallantry" by Susan Page Davis....an awesome historic novel where the ladies take over, so to speak..they have their own 'Ladies Shooting Club.' I loved this book!!!
I hope everyone has a joyous and relaxing Sunday!!